新加坡萨克斯

独奏表演

萨克斯课程

Jeff Saxophone Singapore

萨克斯表演

萨克斯独奏表演(新加坡晚宴、派对、婚礼等)For events (D&D, opening, launch ) or parties (birthday parties/home parties) or weddings.

萨克斯课程

For total beginners (even without knowing how to read the music scores) to intermediate players.

表演或课程询问请简讯

Jeff @ 81261553

for performance booking and classes enquiries.

翟老师的萨克斯私课(专业考级 / 爵士风 / 肯尼基), 有学习热情,完全无音乐基础或有基础的,都可以学习。 课程将按每个学员的具体情况安排最有效的进度。我们也提供萨克斯出租给没有乐器的学员。详情请短信联系

翟剑老师

Jeff@ +65 81261553

翟剑 萨克斯老师/表演乐手Performing Saxophonist / Saxophone Instructor

Jeff Zhai Jian, regarded as "Singapore's Kenny G" by Mediacorp TV channel 5, is based in Singapore. He gives solo saxophone performances or with his band for events, openings, launches, parties and weddings. Trained as a professional classical saxophonist with strong music background since young, he now focuses on performing Kenny G style smooth Jazz as well as funk, pop music for his passion. His performances set the performing venues in a joyful and romantic atomosphere -- classy, exciting and involving.

翟剑,新加坡知名萨克斯表演乐手和萨克斯老师,特别专长于高音萨克斯,也深悉中音及次中音萨克斯演奏,被新加坡新传媒电视台誉为"新加坡的肯尼基"。翟老师的萨克斯私教课(专业考级 / 爵士风、肯尼基), 有学习热情,完全无音乐基础或有基础的,都可以学习。 课程将按每个学员的具体情况安排最有效的进度。我们也提供萨克斯出租/出售给没有乐器的学员。认真学习,按要求练习的学员将能在在8节课后可以演奏一首简单的曲子。

预约上课请简讯翟剑老师Jeff @ +65 81261553

翟剑老师在新加坡电视节目上表演萨克斯

TV appearance on One Moment of Glory (OMG) program (Mediacorp Channel 5, 2010)

Testimonials by Mediacorp Celebrities

Jeanette Awe:

I play the saxophone too and the soprano saxophone is one of the hardest instruments to play. You look calm, collected and savvy and I really loved the performance.

Irene Ng:

Zhai Jian, your music was so soothing and comfortable, I felt so relaxed.

Flying Dutchman:

Zhai Jian, you have taken saxmusic out of the elevator!
Jeff's Performance Videos
(Alto Saxophone & Soprano Saxophone & Tenor Saxophone)
Performance on TV 2010

(Joy of Life - Kenny G)

(One Moment of Glory Program, Mediacorp Channel 5)

Santa Claus is Coming to Town

- Kenny G

(Christmas celebration at the mall)

Dulux D&D Opening

(Sabor A Mi- Kenny G)

(Kenny G Sabor A Mi)

Saxophone Solo

Have Yourself A Little Merry Christmas

Saxophone and Keyboard

(Santa Baby )

(Live music band for events and weddings)

Saxophone and Music Band

(Somewhere Over the Rainbow) Li

D&D Opening with Desert Roses

(Kenny G Joy of Life)

(Lian He Zao Bao Award Ceremony)

Jeff and The Rockstar Lullaby

Improvision

( @Fish & Co. The Glass House )

Forever in Love

Kenny G

(Wedding show)
Performance 1 @ Gemini 2011

(Fusion music and dance concert)

Performance 2 @ Gemini 2011

(Fusion music and dance concert)

Performance @ Ignite Fest 2011

(Music Fest)

All I ask of you

(Wedding show, with Soprano Opera Singer)

Against All Odds

Pop

(Covered by Jeff)

O Sole Mio

(Wedding show, with Soprano Opera Singer)

Birthday Party Show

(Birthday Song&Besame Mucho With Hawaii dancers)

Performance @ Shiraz

(Dan Kehila on accordion/ Dance by Sophia)

Fly me to the Moon @ Desert Roses Studio

(Dan Kehila on accordion)
表演影集
Jeff's Performance Photos
2012年7月,他受邀参加著名美国作曲家和歌手Dan Hill 在新加坡金沙大剧场举行的大型2012巡回演出
其他独奏表演(晚宴,婚礼等)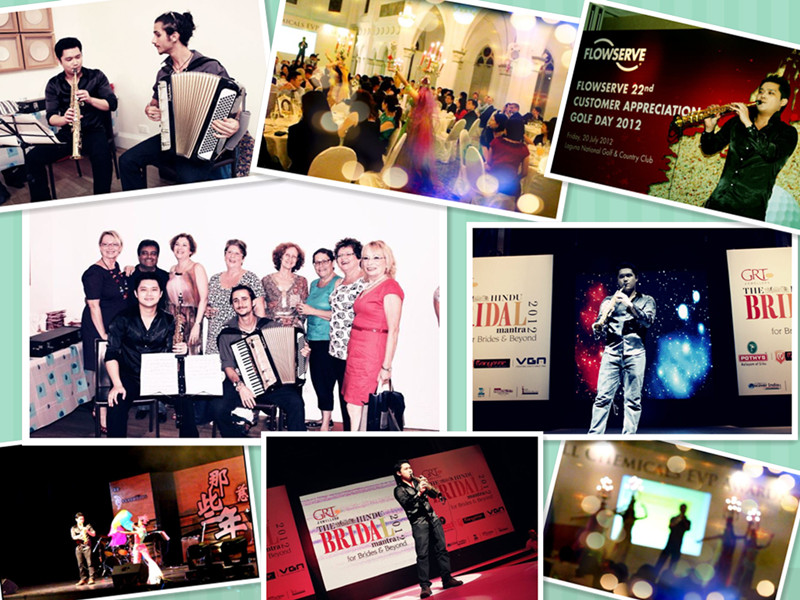 (On TV, in other events, with band and with Desert Roses)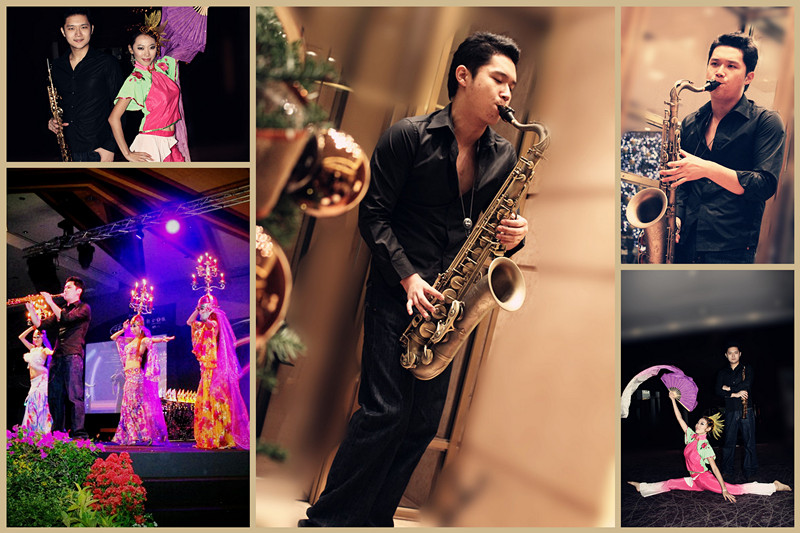 翟剑,新加坡知名高音萨克斯表演乐手和萨克斯老师,被新加坡新传媒电视台誉为"新加坡的肯尼基"。

他曾于2010年受邀在新传媒电视5 波道才艺节目表演高音萨克斯。

翟剑1989 年生于山东烟台,8 岁接触萨克斯音乐时就被深深吸引。他13 岁时专注于学习萨克斯并在短期内取得萨克斯最高级别证书。翟剑自幼就表现出极为出众的音乐才华,小学和中学期间就荣获不计其数的艺术奖项。13 岁时他荣获山东省" 特长生",14 岁时他荣获山东省萨克斯比赛银奖。13 岁到15 岁期间他是烟台市管乐团首席乐手。

2010 年2 月,翟剑赴新求学,即受邀参加共和理工管乐团,在滨海艺术中心表演。

2010 年8 月,他受举荐参加新传媒才艺电视节目。2010 年10 月,他再次受邀为新传媒电视跨年晚会表演。

2012年7月,他受邀参加著名美国作曲家和歌手Dan Hill 在新加坡金沙大剧场举行的大型2012巡回演出。

目前他活跃在新加坡各大晚宴,公司年庆和艺术节的舞台上。他的学生们则来自全世界各地。

他以表演肯尼基 (Kenny G) 高音萨克斯 曲风见长,同时深悉轻爵士乐(Smooth Jazz )及 放克萨克斯 (Funk) 。
翟老师的萨克斯私课(专业考级 / 爵士风、肯尼基), 有学习热情,完全无音乐基础或有基础的,都可以学习。
课程将按每个学员的具体情况安排最有效的进度。我们也提供萨克斯出租/出售给没有乐器的学员。
认真学习,按要求练习的学员将能在在8节课后可以演奏一首简单的曲子。
出售萨克斯给学生,价格合理,品质优良。
预约上课或购买萨克斯请联系翟剑老师Jeff@ +65 81261553